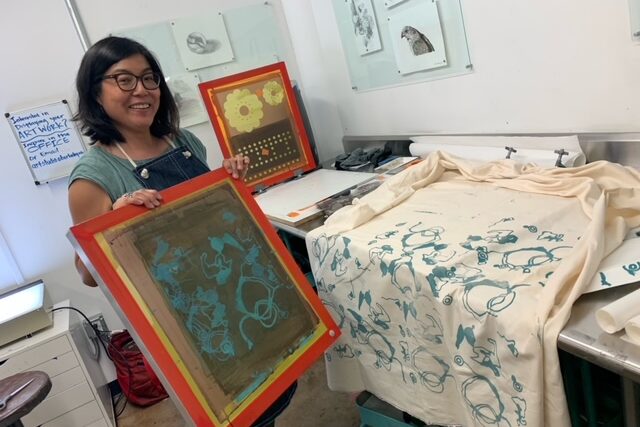 Discover the fun and flexible medium of screen printing! In this course, you will learn how to turn your designs into stencils, experiment with layering and aligning, and how to reclaim and reuse screens. This class is open to everyone! Beginners will learn the fundamentals, while more experienced printmakers will have time to print and learn more advanced tricks.
No class 11/21/23
Materials List:
Required Materials from Students:
Speedball Fabric Screen Printing Ink, Water Soluble only!
Fabric of choice, 100% cotton works best
Opaque Paint markers (recommend One4All or DeccoColor)
Transparent drawing film such as Duralar, Acetate, or Tracing paper (9×12" pad)
Additional containers for mixing and storing ink (plastic food tubs work great).
Pencils/Pens and sketch paper
Art Studio Supplies:
Available for purchase:
1 Screen 20×24 160 mesh – either USED or NEW
19×24 Acetate
Paper
Inkjet transparencies.
Provided in the class:
Squeegees
Tape
Emulsion
Scoop coaters
Mixing spatula and spoons