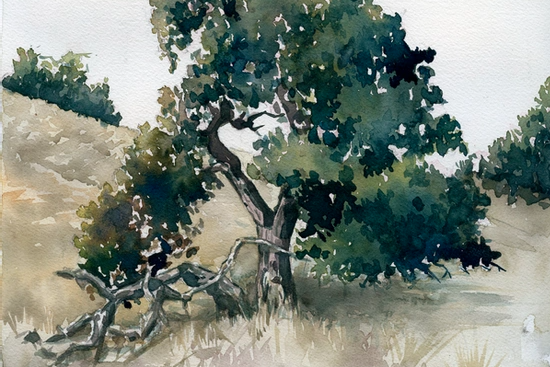 This 7-week course will introduce the basics of watercolor painting as we capture the beauty of natural landscapes. You will gain first hand experience in color mixing & matching, brush technique & control, and expressive color contrast. If you are looking to jumpstart your creativity or explore a new technique, this workshop is for you. All levels are welcome.
No class 11/22/2023
Materials List:
Daniel Smith (high quality) or Cotman (affordable) watercolors
Colors: Ultramarine Blue, Alizarin Crimson, Lemon Yellow, Burnt Sienna, Sap Green, Indigo, Burnt umber
Synthetic watercolor color brushes size 12, 8, 4, 2 round
1 inch wide Flat watercolor brush
9×12 Fluid watercolor paper, cold press
Hb pencils(2)
Pencil sharpener
Kneaded eraser
10 well paint palette (ceramic or plastic)
Art Kits are available to purchase at the Inkstone, on Telegraph Ave.