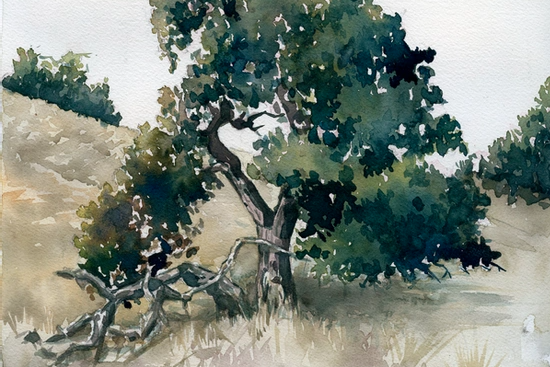 This 7-week course will introduce the basics of watercolor painting as we capture the beauty of natural landscapes. You will gain first hand experience in color mixing & matching, brush technique & control, and expressive color contrast. If you are looking to jumpstart your creativity or explore a new technique, this workshop is for you. All levels are welcome.
No class 3/29/2023
Materials List:
Fluid, Cold Press Watercolor Paper block  9×12
10 Well Plastic palette
Kneaded eraser
2 General's Kimberly Drawing Pencil – HB
Sharpener – Double-Hole
Synthetic Watercolor Brush- Round 2 ,6,10 Princeton
M. Graham Watercolors- Ultramarine Blue, Alizarin Crimson, Lemon Yellow, Sap Green, Chinese White, Burnt Umber, Raw Sienna, Indigo
Drawing Board 13×17 or smaller
Drafting Tape 1 inch
Jar For Water
The Inkstone on 2424 Telegraph near the UC Berkeley campus will have supplies available. Please contact them directly to inquire about in-store pick-up.